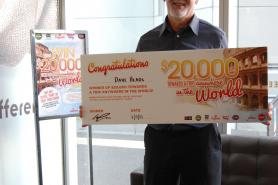 $20,000 WIN A TRIP PROMOTION
July and August was a big month for Retail Food Group, teaming up with Coco-Cola and Fonterra to run one of its largest multi-brand competitions.
We gave all our customers a chance to win a $20,000 trip anywhere in the world. The winning customer would receive a $10,000 Flight Centre voucher, and $10,000 worth of Prezzy cards to help with that spending money. All customers needed to do was purchase a coffee, Pump or Coke & food combo at any Esquires, Brumby's, bb's Café, Donut King and The Coffee Guy nationwide to enter the draw.
There was just over a whopping 13,000 entries throughout the promotion.
The lucky winner was drawn at the start of September, with Dave Heads coming up on top. Dave is a loyal customer of Esquires Tangihua Street, and was absolutely thrilled about the winning prize, he nearly didn't believe it. Dave said the prize couldn't have come at a better time in his life. They really needed the support as their children and grandchildren had just moved back to the UK. We definitely made Dave's day, or his year more like.
Ken the franchisee of Esquires Tangihua Street was also absolutely ecstatic about Dave winning the $20,000 travel prize. He had been a long term regular customer of Kens, which made him even more so deserving of the prize.
On behalf of all our franchisees and staff, we wish Dave all the best on his travels!